The SME Accounting App Developer BukuWarung Announces Seed Funding Led by East Ventures
Used by 250 thousand small shops in 500 cities and regencies in Indonesia
Marsya Nabila - 7 April 2020
BukuWarung, a SaaS accounting startup for SMEs, announced seed funding led by East Ventures. The fresh money will be channeled to tighten the company's position and recruiting talents of engineers, product, design, growth and partnership.
Also participated other investors such as AC Ventures (merger of Agaeti Ventures and Convergence Ventures), Golden Gate Ventures, Tanglin Venture Partners, and Michael Sampoerna. It is also mentioned some angel investors from Grab, Gojek, Flipkart, Paypal, Xendit, Rapyd, Alterra, ZenRooms, and others.
In the exact event, Lunasbos' founder, Adjie Purbojati joined BukaWarung as the founding team to help accelerate the company's growth. Lunasbos is a two-way accounting, claimed as one of the leading players in the accounting service industry for Indonesian SMEs.
BukuWarung was founded by Abhinay Peddisetty and Chinmay Chauhan in late 2019 when both are still working at Carousell. Previously, they also had experienced working in Grab, Belong and Near. They're actively develop services for payment and financial for the last 15 years for SMEs in Indonesia and Southeast Asia.
BukuWarung is an app to facilitate SME players to record transactions digitally. It also provides feature to record debt and return.
The shop owner can record the transactions of customers who owe money. Nevertheless, the business owner owes the supplier or another party. Billing notifications are available via SMS or WhatsApp which will be sent as a bill.
There is also feature for income and outcome in order to record the cash flow and the report is accessible per day, week, or month.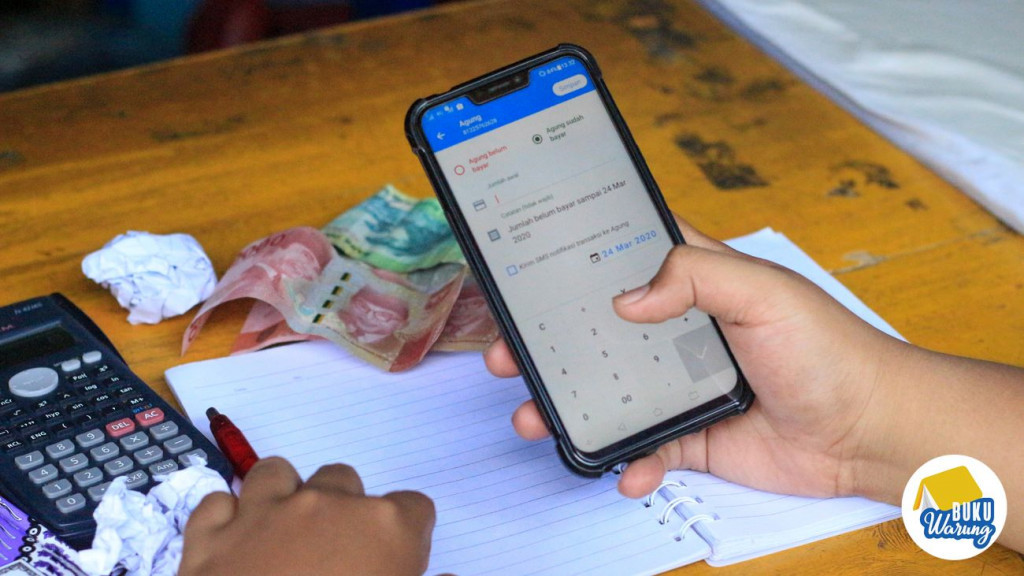 In today's official release (4/7), BukuWarung's Co-founder, Abhinay Peddisetty said, "In the early days, BukuWarung has its own moment of strong growth. However, the number has not reached 1% of 60 million shop owners in Indonesia, which mostly depends on traditional accounting or never had any."
"[..] Our mission is to support the shop owners with technology, therefore, they can manage their business in an efficient way. Kasbon (debt/return) includes in 80% of their business. This is the main reason we focus on digital accounting," he added.
BukaWarung's Co-founder, Chinmay Chauhan continued, "From our experience of developing products for driver and seller in Grab and Carousell, we are aware of the most useful product for SME is a simple product. The feature we offer has increased engagement for 500% in the last two months."
Chinmay said that in the near future the company will release a feature for stall owners to send bills to their customers in the form of a payment link. The link is connected with a digital wallet and other methods.
"This is our effort to help them reduce direct contact amid the threat of the Covid-19 outbreak."
East Ventures' Co-Founder and Managing Partner Willson Cuaca said, they're interested in BukuWarung because of their focus and quick execution. As a result, the traction and engagement growth is quite rapid, making them one of the main players in the market.
"We are sure the next wave of innovative startups will emerge from efforts to encourage digitization in the SME segment. Therefore, we don't waste much time to decide to become a BukuWarung partner," explained Willson.
It also mentioned that the following months after its launching, BukuWarung already used by 250 thousand stalls in 500 cities and regencies in Indonesia. The majority of them are located in second and third-tier cities.
It is said, through the application, users receive return debt payments three times faster and feel the impact of payment reminder features on their business cash flow. In addition, users can save time and expenses by an average of Rp110 thousand, which is usually spent on manual bookkeeping with ledgers, stationery, and calculators.
The new BukuWarung application is available for Android users. The iOS version is being considered for its availability.
–Original article is in Indonesian, translated by Kristin Siagian
Application Information Will Show Up Here